Since the announcement of the Agile Manifesto in 2001, an agile movement has been growing in the IT community. Today, hundreds of organizations that have adopted agile methods and thousands are certified agile coaches. That is, agile has reached a state of maturity where every organization should look at the agile practices and decide to "Go Agile" or not.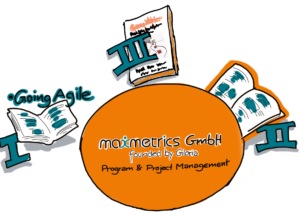 In 2020, maxmetrics published the third edition of Going Agile Project Management Practices. The book synthesizes definitions, concepts, and practices that would be applicable to an executive, manager, or project manager that wants to be informed about agile. It is designed as an introduction to different agile themes and as a reference on the application of agile practices. It can be a valuable guide for a transition to agile practices and a desk reference for applying agile techniques to a project. Maxmetrics offers workshops, consulting, and lectures on agile practices and methodologies.
For more information see also: Project Management Service – maxmetrics
The "Going Agile Project Management Practices Third Edition" quiz is online. Quiz
You can find here reasonable dose of theoretical background as well as numerous examples of particle application.
–Edward Krzeminski, Lecturer/Designer/Continuous Improvement Specialist
Explainer video: