These days, the terminology used for artificial intelligence can include any number of data science sub-fields, including business intelligence, big data analytics, or other decision support systems. Within big data analytics, the technique and method of machine learning can also be a distinguishing factor, e.g., natural language processing, neural networks, computer vision, conversational. As project managers, we must staff our projects based on the scope of delivery.
We have found that business intelligence and big data analytics projects have overlapping and distinct competency requirements. Based on our experience and research, the competency areas required for data science projects include analytical, technical, data, ethic/regulatory, business, project management, and social. The overlap and differences are shown in the figure and are as follows.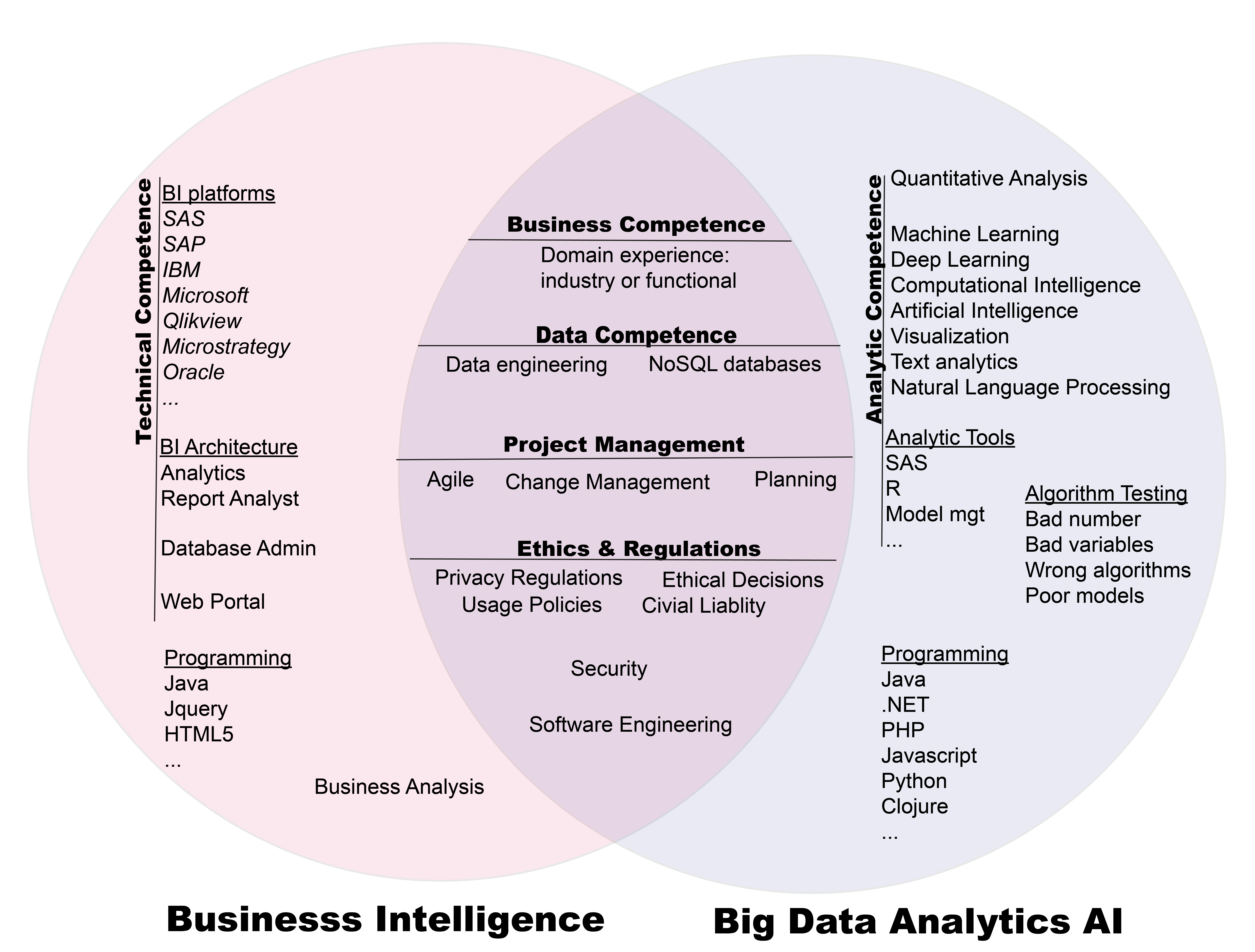 Technical. The technical competence for big data analytics includes statistics, programming knowledge, quantitative analysis, and machine learning. For BI, the technical competence is for specific software vendor packages.
Analytical. Analytic competence includes knowledge of concepts and methods, including quantitative analysis and machine learning.
Data. Big data requires data competence in concepts and methods knowledge in database administration and data warehousing and product knowledge in NoSQL databases. This includes creative and substantial IT skills to acquire, extract, manipulate and structure data.
Business. Understanding and framing business issues in analytics terms is a competence. The knowledge requires ranges from familiarity with functional topics such as accounting and finance to domain knowledge of the specific application. In addition, some BI and big data analytic jobs seek knowledge in certain data-driven fields such as healthcare, digital marketing, or life sciences.
Ethics & regulations. There should be knowledge of the ethics policies of the organization and legal and regulatory rules for the region and usage purposes. Each region and company most likely has long-established data privacy regulations for using personal data for analytics. However, more recently, the United States and European Union have updated or created rules for artificial intelligence systems.
Project management. Project management includes knowledge and competencies in planning, change management, and agile methodologies. There are more external factors to manage in big data analytic projects than business intelligence projects, such as legal and regulatory concerns.
Social. The competencies to communicate and collaborate with people, including empathy, assurance, accuracy, etc, are required for all types of projects.
Our study on the differences between business intelligence and big data analytics projects can be found at the Springer site–here. Other interesting studies include the following:
Debortoli, S., Müller, O., & Vom Brocke, J. P. D. (2014). Comparing Business Intelligence and Big Data Skills. Business & Information Systems Engineering, 6(5), 289-300. https://dx.doi.org/10.1007/s12599-014-0344-2
Hattingh, M., Marshall, L., Holmner, M., & Naidoo, R. (2019). Data Science Competency in Organisations: A Systematic Review and Unified Model. Paper presented at the Proceedings of the South African Institute of Computer Scientists and Information Technologists 2019, Skukuza, South Africa. https://doi.org/10.1145/3351108.3351110
Michalczyk, S., Nadj, M., Mädche, A., & Gröger, C. (2021). Demystifying Job Roles In Data Science: A Text Mining Approach. Paper presented at the Twenty-Ninth European Conference on Information Systems (ECIS 2021), Marrakesh, Morocco|A Virtual AIS. https://aisel.aisnet.org/ecis2021_rp/115/