I attended the PM & PMO Conference BRIDGE in Vilnius, Lithuania, a few weeks ago. It was very well organized by Project Management United, and a great platform for professionals and experts from different industries. Their mission is "to create a diverse community of leaders in project managers, seek networking, continuous improvement and contribute to sustainable development goals." They definitely accomplished their mission. And although most of the attendees were from Lithuania, they had relevant international speakers and participants.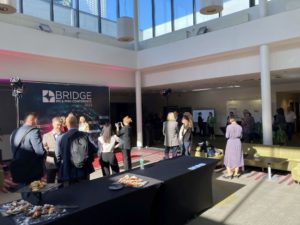 Talking to different speakers and other attendees about how project management is evolving was really inspiring. I personally learned much from the professionals who shared their personal visions and experiences with passion and enthusiasm.
Artificial Intelligence (AI) and its influence on managing projects and the role of project manager was an important topic that led to interesting and lively discussions. Speaking about how to deal with AI on managing projects, a sentence that I found especially refreshing and made me think was mentioned by one of the speakers, Dov Zavadskis: "ChatGPT will not replace you; the person working with AI will."
After the conference, they organized different on-site visits to four different locations. I went to visit the SEB Bank HQ office. First, we got the chance to visit the whole building, and they explained how sustainable it was. Afterward, one of the speakers, Dana Ivanauskaité, who is also Head of Baltic Portfolio and Project Management at SEB Baltics, gave a very good insight into how they manage projects internally.
In the evening, we had a lovely wrap-up at a roof terrace in Vilnius city with fantastic weather and views, nice cocktails, a cool DJ, and the best people.
Special thanks go to Edita Kemzūraité and Inga Ablingiené for organizing this amazing event so well and being so kind and professional, and to Remigijus Pielikis for his always kind online and onsite support.
BRIDGE Conference was for me a unique opportunity to learn, network, and gain insights into the evolving landscape of project management.
---