We were searching for the appropriate forum to promote our game The Project Win Game™. We found a conference we never heard of: the European Conference on Games Based Learning (ECGBL). It was an academic conference, so we weren't sure whether it made sense to attend or let alone present our game. Still, applied and sent a paper describing our serious game. We explained the gamification of project management, the development of the game, the goal, the audience, how to play the game as well as lessons learned through the play.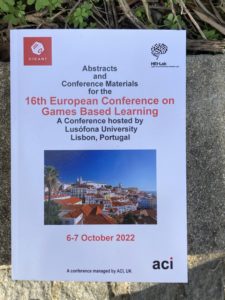 We were thrilled they accepted our paper: The Project Win Game™ : A Serious Game for Project Management Simulation. They made a few suggestions. After a few minor changes, we were set to present our game at the conference. We received the program and were impressed by the number of titles and topics included.
Since we haven't attended any conferences 'physically' for a long time, due to the pandemic, we were particularly excited and looking forward to attending this one in person. Organized by Academic Conference International (ACI), the ECGBL was held at the Lusófona University in Lisbon, Portugal. It was a hybrid conference with streams for onsite and virtual sessions and joint plenary presentations.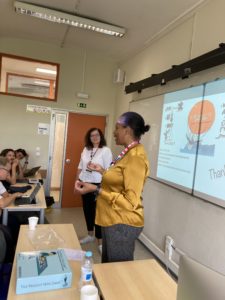 On the first day of the conference, on Thursday 6th October 2022, we were the first presenters in the morning of the stream Board Games and Lego. The room was full, and we presented our game in the given fifteen minutes. We also included a brief explainer video*. After we finished, we had time to respond to several questions. We were glad the audience was engaged and curious about the game.
After our presentation we were able to relax and enjoy the conference and its many presentations related to games-based learning. We were impressed and amazed by the variety of topics that were brought into play for serious games purposes.
We could reflect on the suitability of a board game for teaching many complex and important topics. To name a few: teaching complex natural systems (yes, it is suitable!), the dangers of sharing data (with a very creative board), shaping the employee behavior for the digital transformation through a serious game, how systems mapping support interdisciplinary understanding in serious game design, demystifying cyber security for adult learners, or how a mobile augmented reality game can teach basic chemistry to children.
It was two days of joyfully listening to different presentations and meeting very interesting people from all over the world. We were very happy and proud to present our game officially in a games-based learning conference.
*Brief explainer video presented at the ECGBL: