The McDonald's Monopoly game promotion is a form of gamification. I am unsure of their formally stated goal, but it is probably to make more money. The behaviors experienced drive people who want fast food to consider McDonald's; it gets customers to buy certain food combinations and to return to McDonald's as often as possible. However, the game drives other behaviors that do not necessarily result in more money for McDonald's, e.g., collecting game pieces without a purchase and creating a scam around the game pieces.
Here is a quick overview for those unfamiliar with McDonald's Monopoly game promotion. Monopoly is a real-estate board where the player's goal is to remain financially solvent by buying and developing pieces of property. Since 1987, McDonald's has periodically run a promotion based on Monopoly. A paper game board is freely available, and game pieces are affixed to qualifying menu items that must be purchased. To win a prize, the players collect game pieces to build property groups, and there are also instant prizes on some game pieces. The prizes can be substantial, e.g., in the United Kingdom 2022 game, 100K£ cash, or an electric car.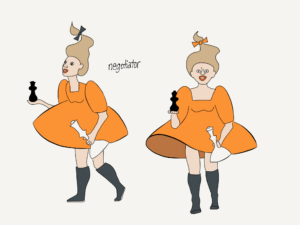 The main point is that the game drives people to act. For example, instead of buying an item that does not include a game piece, people upgrade to an item or a menu of items with game pieces. I know people react because the game affected me. When my son was around 8 years old, we sat in a McDonald's for over an hour, gathering game pieces that other patrons left behind. Gamification drives behavior.
Now, turning to serious games. Serious games are designed for specific purposes other than pure entertainment. Gamification incorporates elements of games into non-game activities. Our game, The Project Win Game™, is a serious game for people to experience the differences in decision-making between traditional/waterfall and agile methodologies. The rules and components interact to create the game dynamics that should drive certain behaviors. In a controlled setting, such as a workshop, players' decisions can be observed, and feedback or discussion can be provided on their decisions and behaviors. In the following table, the behaviors are the project management actions for the players. Each behavior requires one or more decisions from the player related to the project management knowledge area.
Behavior
Decision
Knowledge Area
Selecting a methodology
Project lifecycle
Integration
Building a team
Team composition
– by role
– by budget
– by work productivity
Human resources
Managing the team
Team composition
– by attribute
Human resources
Deciding product features
Product design
– by feature
– by methodology constraint
Product feature
– by available team productivity
Scope
Managing change
Aspects of the plan to change
Integration
Budgeting a project
– Team composition by available budget;
– Product features team composition by budget
– Team composition by duration
– Budget contingency
Budget
Focusing on value
Value by Product Feature by Team composition
Value
Dealing with issues and opportunities
Impact of risks on team compositions, product features, and value
Risks
The Project Win Game™ is not comparable to Monopoly or the prices McDonald's delivers. Nevertheless, it can be used to teach certain behaviors to non-project managers and to provide them with feedback and learning opportunities based on workshop observations.